I loved the gold and white Anna Griffin paper in the Studio Calico Outer Banks add-on. But it was totally different from papers I'm usually choose and I couldn't figure out how to use it. The I realized that the pattern reminded me of doilies.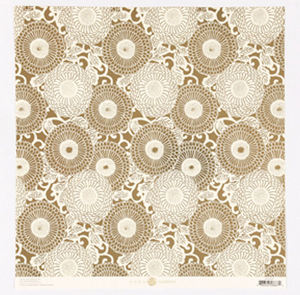 And doilies remind me of Stephanie Howell. So I went to her gallery and found a
layout
that inspired me. And I was off and running.
I used gold lame and primrose color shine to color some of my doilies I was layering.
And I didn't have chipboard flowers I wanted to use so I mixed the Anna Griffin die cuts from June's kits with other embellishments in my stash.
But I loved the journaling directly on a doily and used that idea exactly like she did. The layout I ended up with was a more literal interpretation than I usually make when I scraplift, but I liked the end product. And I'm thinking that I will be off and running with that paper now that I've cut it. And this is why I love the Studio Calico kits. I'm inspired to try papers, patterns, and embellishments I wouldn't otherwise.
I'm hoping to scrap this weekend. Hope you have a great Saturday.