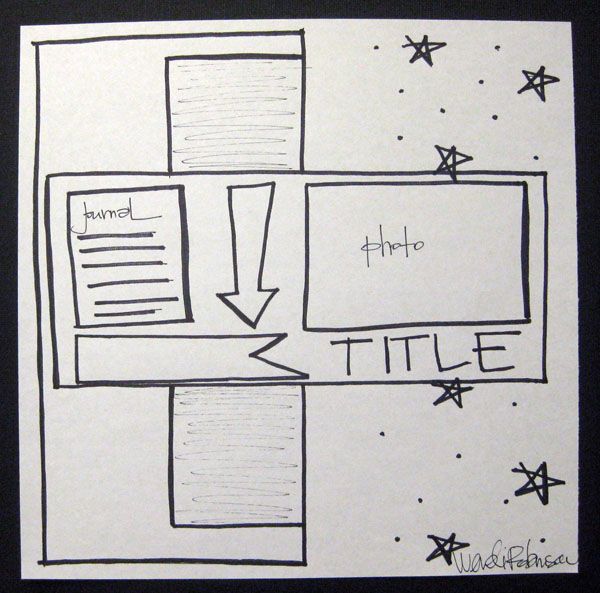 Lately one of my favorite challenges is a "fast scrap" where a sketch is posted and you have an hour to put together a layout. Since I tend to agonize over every photo, paper and embellishment and think that anything that takes less than 4 or 5 hours went together quickly, a "fast scrap" provides a real creative push for me.
My Scraps and More
is having an online crop this weekend on their forum and offered fast scrap challenges both Friday and Saturday night. I thought I'd share the fast scrap layout I did Saturday.
When I participate in a fast scrap, I try to pick pictures and a few papers before the sketch goes up - otherwise I'd spend the entire hour looking for paper. When this sketch went up, I wasn't inspired at all - but I only had an hour so I just started.
My base paper is from the Creative Memories Enchanted Line - it was an off-white embossed paper. To make the embossed pattern stand out, I ran a Jenni Bowlin chalking ink across the whole piece of paper. Then I just started cutting. The striped paper was a Studio Calico kit exclusive, I added a piece of olive cardstock. The rusty orange piece is from the American Crafts Chaps line and was buried in my stash. The turquoise piece came in a Websters Pages warehouse box.
After I added my picture I used Studio Calico Thickers and the 12x12 sticker sheet from Darling Dear to add a title, adding a DD gem to the middle of the "O".. The remaining stickers came from the same Darling Dear sticker sheet. Then I sprinkled sequins (from JoAnns) down the side to finish it off.
Here's the end result:
I was thrilled with the end result - it was a fun, fast layout that captured the festive spirit of a birthday celebration - and it only took about 30 minutes to put together.
Hope you're having fun scrapping this weekend. I'm hoping to play more today. Enjoy your Sunday!