I came across a challenge on
Jennifer McGuire's blog
that I have to share. Its the Share Handmade Kindness challenge. She is posting challenges to help inspire us all to share things we make this month.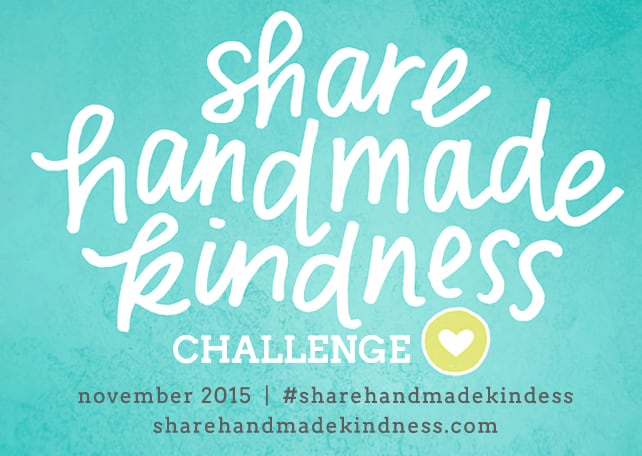 I love this idea - after all I have a basket full of handmade cards that I never send or give to anyone. And I love to bake but everyone at my house is trying not to eat a lot of sweets. So I decided to play along.
The challenge this week is to share handmade kindness with friends and family. So last night I whipped up a batch of my "famous" championship chocolate chip cookies. I put them in little cellophane bags to share with friends at work - because homemade cookies make everything better.....
My original plan was to make cute little tags to attach to each bag. But honestly, by the time I worked all day, walked the dog for an hour and made the cookies I was tired. So first I thought that I would set the cookies aside and make the tags tonight. Then I thought that I would just put the cookies in the cookie jar. After all - no one knew I was making them so no one would be disappointed.
And then I watched Jennifer's video about the challenge again. The purpose of the Jennifer's challenge to share things we make is not to impress people with how pretty the gift is. And it's not to give the prettiest thing ever. The purpose of the challenge is to do something kind. And a little bag of homemade cookies on your desk would make you smile - you would know that someone cared about you.
So the handmade tags with pretty ribbon didn't go on the bags. The silver twist-ties that came with the bags worked perfectly. Handmade kindness doesn't have to mean fancy - it just means thoughtful.
So I am excited to see what the next challenge is. And I am challenging myself to focus on the act of giving and not the act of making the prettiest card or the most elaborate gift. Instead this is a great opportunity to remember the joy that comes with giving.
If you are playing along, I'd love to see what you made.
Thanks for stopping by.